Does Medicare Pay for Mobility Scooters?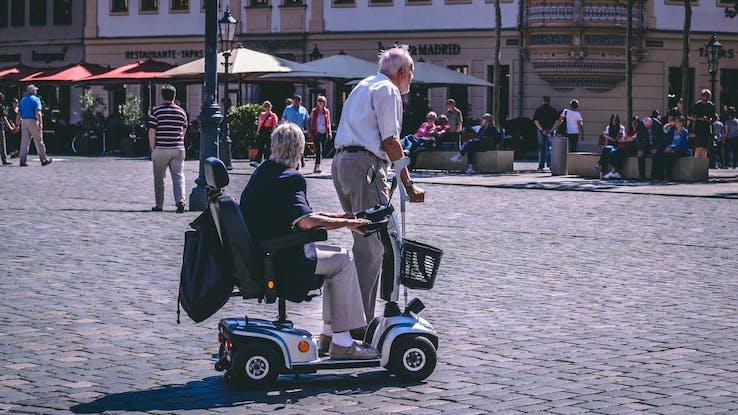 Losing mobility can make it more challenging to get around — and maintain independence — as you age. Power wheelchairs and mobility scooters are great tools for helping you stay active out in the world, but they can be prohibitively expensive. In some cases, your Medicare benefits may help cover the cost of a power scooter.
Medicare Part B
Medicare Part B is the portion of your plan that covers medical supplies and equipment. Wheelchairs and scooters, both manual and electric powered, are considered durable medical equipment (DME), so some of their costs may be covered under Medicare Part B. In order for an electric scooter to be covered under Part B, you must first have an appointment with your doctor, who then has to submit a written order stating that you have a medical need for a wheelchair or scooter.
Conditions for Coverage
In order for Medicare Part B to cover some of the costs of a power scooter or wheelchair, you need to meet several different conditions, which your doctor can certify. You must have limited mobility, meaning it's physically difficult for you to complete independent, purposeful movement in some way. In addition, your doctor must have diagnosed you with a health condition that makes getting around your home difficult. This condition must hinder your ability to perform one or more activities of daily living, such as bathing or dressing, and the use of a walker or cane alone can't resolve these mobility issues. 
You must be able to safely operate the scooter, meaning a condition like deteriorating mental capacity or loss of sight can't prevent you from using the equipment. You also need to be able to safely get onto and off of the scooter, either by yourself or with the help of someone who's always available to assist you. Your home should also be arranged to accommodate easy navigation with the scooter. Finally, in order for Medicare to cover your scooter, your prescription must come from a doctor and you must get the mobility aid from a DME supplier that are both able to accept payments from Medicare.
How Much Does It Cost?
If you meet the conditions for coverage and Medicare approves your prescription for a mobility scooter, you'll pay 20% of the total amount that Medicare will pay for your scooter. If you haven't yet met your deductible for the year, you'll need to pay that first before the Medicare portion for your scooter begins covering the cost for purchasing the equipment. The amount you end up paying for the scooter also depends on how much the equipment provider charges, whether you choose to rent your scooter or buy it and the model of scooter you choose. 
You can purchase any scooter you like if you're planning to pay out of pocket. However, if you want Medicare to cover a portion of the costs, the supplier from whom you're buying the scooter needs to be enrolled in Medicare. This means the supplier is able to accept payments from Medicare. It's important that, once you begin the process of shopping for a scooter, you find out immediately whether or not a supplier is enrolled. If it isn't, you can continue the process of finding a supplier that accepts your Medicare insurance before you start to shop for a suitable power scooter.
A Timely Prescription
After your in-person medical exam, your doctor must supply the equipment provider with your prescription for your power mobility device within 45 days. If this doesn't happen, you'll need to begin the process again by attending another medical exam and having your doctor write a new prescription stating that it is still medically necessary for you to have an electric scooter.
Resource Links:
https://www.medicare.gov/Pubs/pdf/11046-Medicare-Wheelchair-Scooter.pdf
https://www.medicare.gov/coverage/wheelchairs-scooters
https://www.medicareinteractive.org/get-answers/medicare-covered-services/durable-medical-equipment-dme/coverage-of-power-wheelchairs-and-scooters
https://www.medicare.gov/what-medicare-covers/what-part-b-covers
Wheelchair and Scooter Benefit
Different types of power-operated scooters and wheelchairs are covered as DME under Part B. If you're unable to get around safely using a cane or walker and your upper body doesn't have the strength to push a manual wheelchair, you'll likely qualify for Medicare to cover most of the costs of a power-operated scooter. Your doctor must certify that you're able to sit up properly in the scooter and safely operate the controls. You'll also need to be able to get into and out of the scooter safely on your own or with assistance. 
If you're unable to use a cane, walker and manual wheelchair and you're also not able to sit up in a scooter or operate its power controls, you may be eligible for for a power wheelchair. No matter which of these devices you may need, the first step is to attend a face-to-face appointment with your doctor. During this visit, they'll assess your needs and determine which type of DME is most suitable for you. Medicare requires that you attend this appointment before your insurance coverage will pay for any of these mobility devices. Your doctor will need to submit a written report to Medicare detailing your condition and explaining your ability to safely use the equipment.