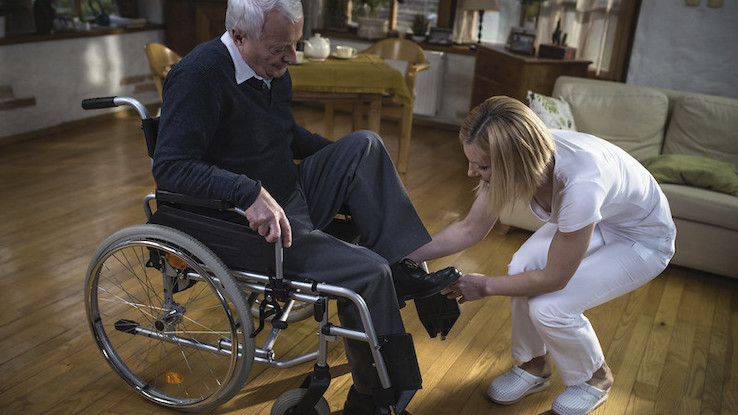 If you want to maintain your independence and recover in a familiar place when you need medical care, living at home and receiving care there from a trained professional can be more comfortable than staying in the hospital. But does Medicare pay for this type of service? Figuring out what Medicare covers in this kind of situation can be a bit confusing, but this guide can help you understand Medicare coverage for home health care.
Medicare Home Assistance
"Home health care assistance" is a broad term that covers services that you receive in your home for an injury or illness. Typically, a staff member from a home health care agency comes to your home and provides medical care you need. This might include activities like taking your blood pressure or making sure you're eating and drinking the right things. These services should be comparable to what you can receive in a hospital or skilled nursing facility, but at a lower cost. The savings and convenience involved with home health care services make this an appealing option for recovering from an injury or illness.
The goal of receiving home health care is to help your healing process. You can recover while fostering a sense of independence and becoming as self-sufficient as possible. It's easier to keep social connections and maintain or improve your condition while at home, too. Friends can visit you, you'll be with any pets you might have and you can enjoy your favorite foods in a familiar setting, all of which can help put you in a positive frame of mind for healing.
If you have Medicare Part A and Part B, some of the expenses of home health care may be covered under your insurance. Coverage depends on the services you need; Medicare maintains a list of specific home health services that are considered eligible for coverage. These may include things like physical therapy and medical social services.
When Does Medicare Coverage Start?
In order to be eligible for in-home care that Medicare covers, you must meet several conditions. You must be under the care of a physician, and that physician must create and regularly review a plan of care created specifically for you. The doctor must certify that you are homebound, meaning you have difficulty leaving your house due to your illness or injury. Your doctor must also state that you require at least one of the following: speech-language pathology, intermittent skilled nursing care, continual occupational therapy and/or physical therapy. The frequency, length of time and time period of the services needs to be reasonable, and the services need to be complex enough that only qualified therapists who are Medicare approved can provide them safely and effectively.
To be eligible for coverage, your illness or injury must also meet at least one of the following specific conditions. Your condition must be expected to improve within a reasonable, predictable period of time; you need a qualified therapist or physician to formulate a treatment plan for your injury or illness; or, you need a qualified therapist to help you complete maintenance therapy for your injury or illness. The home health agency whose aide is assisting you in your house must also be Medicare certified.
What Medicare Doesn't Cover
There are certain aspects of in-home care that Medicare doesn't pay for, and it's important to understand what these include so you know what to expect when you begin receiving home health services. Medicare will not pay for 24-hour, around-the-clock care in your home. Homemaker services, such as cooking, laundry and housekeeping, aren't covered if these are the only services you need assistance with. However, home health care aides may perform some of these duties when they're present to provide other covered services you need. Your Medicare doesn't pay for meal delivery services. It also doesn't pay for you to receive custodial services, which include assistance with bathing, dressing or using the restroom, if these are the only activities you need help with while you recover.
How to Start Home Health Care
The process to start receiving Medicare-covered home health care depends on whether you're currently hospitalized or if you're already at home. You must be enrolled in Medicare Part A and Part B and meet the eligibility criteria discussed above. If you're in the hospital, a social worker should arrange for a Medicare-certified home health agency aide to meet with you and assess your condition and situation. If this professional deems you eligible, you should be able to begin receiving home health care upon your discharge. If you're already at home, speak with your doctor about your health care needs and ask them for a list of approved home health care agencies that can come visit you and assess your situation to see if you're eligible for Medicare coverage of home health services.
Resource Links:
https://www.medicare.gov/coverage/home-health-services
https://www.medicare.gov/what-medicare-covers/whats-home-health-care
https://www.medicare.gov/Pubs/pdf/10969-Medicare-and-Home-Health-Care.pdf
https://www.aarp.org/health/medicare-qa-tool/does-medicare-cover-home-healthcare/
Anticipating Costs
It's important to determine what elements of your home health care Medicare covers. If you have Original Medicare, meaning you don't have a private health insurance plan under Medicare Part C, Medicare covers 100% of the costs of your in-home care. That means you pay 0% of the costs yourself. However, if you require durable medical equipment (DME) to manage your condition, you'll need to pay 20% of the Medicare-approved cost for that equipment. DME includes mobility aids like scooters and wheelchairs, and it also includes larger items like hospital beds, which you may need to use at home to make living with your illness or injury easier.