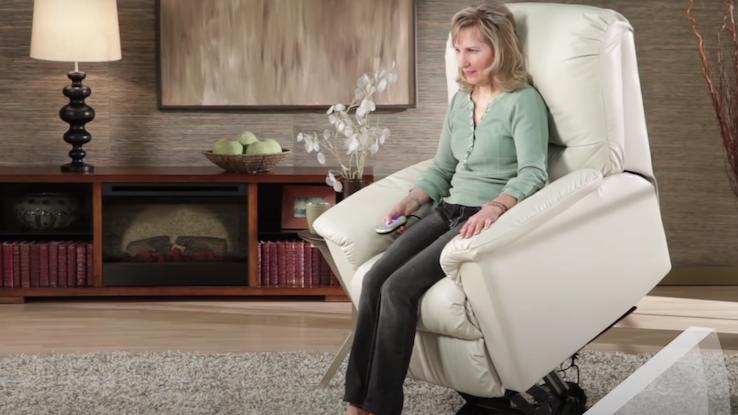 If you're finding that it's getting increasingly difficult to get up from or sit down in your favorite seat, a lift chair can help you stay safer and more comfortable while assisting you with sitting and standing. Because these chairs are part furniture and part medical equipment, you may be wondering if Medicare can help cover some or all of the costs. Learn more about lift chairs and whether Medicare may pay some of the expenses to decide if one of these medical devices is right for your needs.
What Is a Lift Chair?
First, it's important to understand what a lift chair is and what it does. The term may make you think of a stair lift that transfers you between floors of a house, or a patient lift, which aids other people in transferring you to a bed or wheelchair. However, those devices are different. A lift chair looks like a regular chair or comfortable recliner, but it has a motorized element on a metal frame that lifts the chair into an upright position and tilts forward slightly. The motor and frame also tilt back and lower the chair to a typical seated position. You use a small remote with buttons to operate the chair's different functions.
If you have difficulty pushing yourself up from a chair, a lift chair does the work for you, elevating you to almost a standing position. It can also carefully lower you into a seated position. Some chairs recline to a completely flat position so you can comfortably sleep. People who have arthritis or other conditions that limit mobility often find that lift chairs make it easier to stand or sit without assistance from someone else.
You might see lift chairs called "power lift recliners" or "multi-position recliners," but these names all refer to the same type of chair. Where lift chairs differ, however, is in the options they're available with and the number of positions they can accommodate. Whatever your body proportions may be, you can find a comfortable lift chair. They come in varying widths and heights, and you can find them upholstered in materials like fabric, vinyl and leather. Some of these chairs also come with comfort options like heated areas and massage capabilities. You can also find customizable chairs, but keep in mind that you may have to pay more out of pocket to get the features you want than you would if you opted for a more basic model.
Medicare and Lift Chairs
If you're considering getting a lift chair and you have healthcare coverage under Medicare, you may be wondering if Medicare covers the cost of the chair, particularly when you're using it due to limited mobility resulting from a health condition like arthritis. Part B, which is the part of Medicare that covers medical equipment, may pay for the costs associated with your lift chair. This part of Medicare covers durable medical equipment (DME), which includes assistive and adaptive devices like wheelchairs and power scooters. Part of a lift chair is considered DME because it helps with limited mobility, conditions that affect balance and other health issues.
The part of the chair lift that Medicare considers DME is the lift mechanism itself. This means that the upholstered, cushioned part of the chair isn't covered under Medicare, despite the fact that this fabric-covered seat is attached to the motorized lift element. In order for Medicare to cover the chair lift, the lift must be motorized and cannot use spring devices to elevate the seat.
There are also certain situations in which Medicare won't cover a chair lift. If you're living in a skilled nursing facility or a hospital, you may not be eligible for coverage of your lift chair until you return home. If Medicare has also paid for you to get a scooter, wheelchair or other motorized device, it won't cover the costs you'll pay for a chair lift, even if your doctor deems it medically necessary.
Medicare Coverage Eligibility
You may be eligible for Medicare Part B to cover some of the costs of your chair lift if a doctor deems the lift medically necessary and you have a completed Medicare form for a lift chair (called a Certificate of Medical Necessity CMS-849 – Seat Lift Mechanisms).
In order to be eligible for coverage of your chair lift and for it to be deemed "medically necessary" for you, you need to meet certain medical standards Medicare has set. For example, you must be unable to stand up from a regular armchair unassisted, and you must have severe arthritis in your hip or knee. You need to be able to operate the chair lift on your own, and you need to be able to walk once you're standing, even if you need to use a walker, cane or other device to do so. These aren't the only conditions you need to meet, and it's important to talk to your doctor about eligibility once you've decided to explore your options for getting a chair lift.
It's also important to note that, even if you're eligible for Medicare to cover some of the costs of your lift chair, you'll still pay 20% of the cost for the motorized lift element and all of the costs for the upholstered seat component. Medicare covers about 80% of the approved cost of the motorized lift element only.
Resource Links:
https://www.medicare.gov/coverage/patient-lifts
https://www.aginginplace.org/does-medicare-cover-lift-chairs/
https://www.medicare.org/articles/will-medicare-pay-for-a-lift-chair/