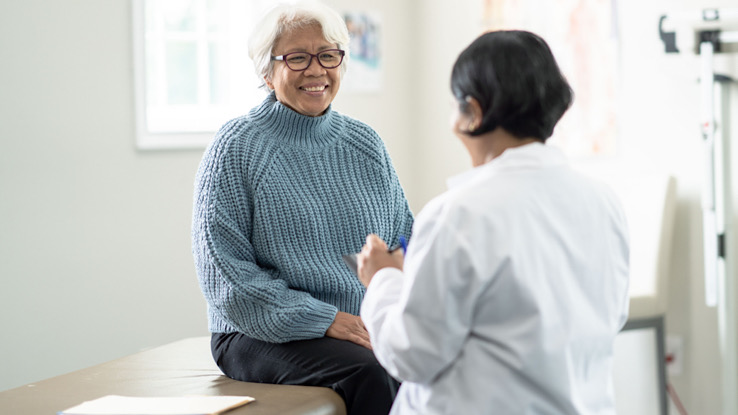 Getting older can be tough, both physically and mentally. You may have noticed more aches and pains than you used to, some forgetfulness, or found that you don't have the energy for your usual daily activities. As you get older, your body will go through many changes. It's important to take care of your body and mind as you age to stay as healthy as possible. To ensure you're doing everything you can to maintain your health and independence during your golden years, you might consider finding doctors that specialize in older adult healthcare to guide you. 
Who Specializes in Older Adult Healthcare (Geriatrician)?
Doctors who specialize in caring for older adults are known as geriatricians. Geriatricians have advanced knowledge of how the body ages and the most common health problems that affect older adults. Just as children see pediatricians, geriatricians specialize in healthcare for older people. Since geriatricians also have training in general medicine, they can often help manage most ongoing medical problems you have.
What Does a Geriatrician Do?
Geriatricians are doctors who specialize in older adult healthcare. A geriatrician can take many roles, depending on your health and goals. Generally, a geriatrician can help you determine which medications, treatments, and lifestyle changes will help you improve your health as you age.
Your geriatrician's recommendations will often depend on your goals and health status. If you are generally healthy, a geriatrician's focus would be to prevent conditions that commonly affect older individuals. This includes thinning bones (osteoporosis), dementia, or frailty. On the other hand, if you or a loved one is nearing the end of life, a geriatrician may instead focus on reducing unnecessary medications and maximizing comfort. 
Reasons to See Doctors Who Specialize in Older Adult
Geriatricians generally see adults 65 years or older, but this is not necessarily a rule. Just because you are over 65 does not necessarily mean you need to see a geriatrician. Many older adults are content with the care they get from their primary care doctor. However, if your health needs are complex or you feel that you would like a different opinion to optimize your health as you age, then you might consider seeing a geriatrician. 
About 1 in 3 older adults could benefit from seeing a doctor specializing in geriatrics. If you're 65 or older, you should consider making an appointment with a geriatrician if you are:
Managing multiple chronic conditions, such as high blood pressure, heart disease, diabetes, or chronic kidney disease
Taking more than 5 prescription medications and experiencing side effects
Struggling to manage your medications
Experiencing age-related health conditions, such as memory difficulties
Having trouble with mobility
A doctors who specializes in older adult healthcare can work with you to:
Minimize medication or treatment side effects
Improve your overall health so you can avoid going to the hospital
Suggest other specialists you could benefit from seeing.
Help you get back on your feet and improve long-term recovery if you are hospitalized
In addition to helping you get major health problems under control, a geriatric specialist can also give you wellness tips tailored for older adults and help you create a lifestyle plan that will help you maintain your independence and continue enjoying your favorite activities. It's always best to be proactive when it comes to your health, so don't wait to see a geriatrician if you're worried about the effects of aging.
What to Expect During Your Visit
Your first visit to a geriatric doctor will include an assessment of your overall health. Your geriatrician will take your vital signs, perform a physical exam, review your health history, medication list, and ask questions about any health problems you're dealing with. During this initial visit, the goal is to get a "big picture" view of your health. This appointment will likely be longer than your routine medical visits to allow time to discuss all your health needs.
Your treatment plan will depend on your overall health status and goals for your care. This might include referrals to other medical specialists, changes to your medications, or suggestions for lifestyle changes. For example, if you have cataracts, your geriatrician might refer you to an eye doctor to discuss treatment options. Many doctors specializing in older adult care work within medical groups that offer several medical specialty offices under one roof. On the other hand, if you are taking medications producing unwanted side effects, they may suggest other medications that are better tolerated in older adults.
Once your geriatrician has developed a plan for your care, they will likely schedule follow-up appointments. During follow-up, your geriatrician will want to check in to monitor your health and ensure that your treatment plan is still working well.
Will Insurance Cover Geriatrician Visits?
Medical coverage for older adults varies quite a bit depending on your insurance. Most insurance plans should include specialist care, but you might need a referral from your primary doctor before it covers your geriatrician visits.
It's important to fully understand your health plan to know which costs will be out-of-pocket. You might also need care from a primary care doctor and a geriatrician, which could affect your coverage. If you have questions about your insurance coverage, you should call your insurance company using the number provided on your insurance card.
Finding the Right Doctors Who Specialize In Older Adult
Finding the right geriatrician can feel overwhelming, but it doesn't have to be. You can always start by asking your primary care doctor the question, "who are the best doctors for older adults near me?"
When looking for a doctor specializing in geriatrics, there are a few factors to consider like:
 Choosing adoctors who specializes in older adult healthcare that accepts your insurance. They should have completed additional fellowship training in older adult care. 
Knowing what you can expect in terms of accessibility and communication. How do they handle emergencies? What are the office hours? Do they offer telehealth or in-home care? It's also important that the doctor's philosophy aligns with your expectations. 
Location and convenience are also major factors for most. If you aren't able to drive and don't have access to transportation, there might be services near you that offer rides to doctors for older adults. Medicaid, for example, will provide free rides to medical appointments for people enrolled in the program. Your local Area Agency on Aging (AAA) might also be able to help. 
Finding the right geriatric doctor can make a huge, positive difference in your health. As you get older, it's important to build a team of healthcare professionals who can help you live your life to the fullest for as long as possible.
Resource Links: