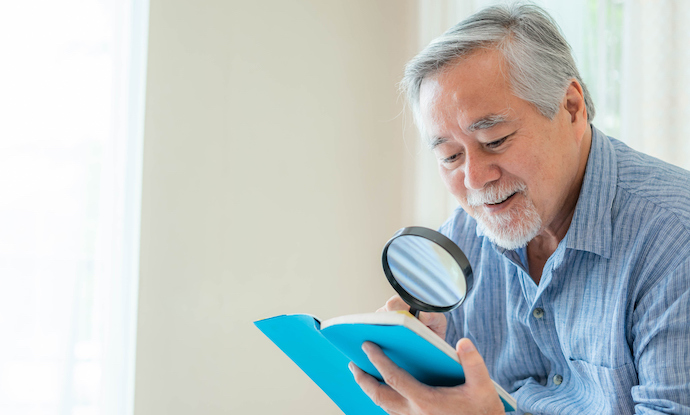 Are you or a loved one living with low vision? While there's no cure for this type of vision loss, low vision therapy can help you make the most of your sight.
If you have low vision, find an eye doctor who specializes in this condition. Your doctor may prescribe vision rehabilitation services along with any other treatments you need.
Learn more about low vision therapy and how it can help people with vision loss.
What Is Low Vision?
Low vision is a form of permanent vision loss that makes it hard to do everyday activities, like reading a newspaper or driving a car. And it doesn't improve with typical treatments, like glasses or contact lenses.
People with low vision may lose central or peripheral (side) vision. Central vision loss can make it hard to read and recognize faces. Peripheral vision loss can cause problems with balance and mobility. Low vision can also make it hard to see at night or in low light.
Low vision is more common in older adults because the health conditions that cause low vision are linked to aging. Causes include:
Most people with low vision are over age 60, but it can also happen to younger people — for example, after a trauma or brain injury.
What Is Low Vision Therapy?
The goal of vision rehab is to improve your quality of life and ensure that your vision loss doesn't affect your livelihood or happiness.
Low vision therapy includes training to use devices like sight aids or speech-to-text technology. It also includes vision rehab services. Vision rehab can help you learn how to do tasks like cooking, shopping, reading, writing and getting around.
You may see several different specialists as part of low vision therapy. For example:
Certified low vision therapists can teach you to use low vision devices and adaptive technologies.
Orientation and mobility specialists can help you find the safest and most independent ways to get around, like using public transportation.
Occupational therapists can help you adjust your environment, like using brighter lights. They can also help you learn to use special devices and techniques for everyday tasks.
Social workers can help you find a job in your field that works with your needs and abilities.
Mental health therapists can help you adjust to the challenges of living with low vision.
Your vision rehab team will help you set personal goals and make a plan to achieve them.
What Devices Can Help with Low Vision?
There are several types of low vision devices that can help improve your daily life, including:
Magnifiers to help you read, including hand-held, stand and video magnifiers
Screen readers and voice-to-text apps to help you use your phone and computer
You may also find that large-print books or audiobooks are helpful. These low vision methods and devices can help you maintain your independence and improve your quality of life.
Find Low Vision Therapy Resources for Yourself or a Loved One
First, talk with your doctor or eye doctor about what kinds of care you need. Then find out if your insurance will cover it. Some insurance plans cover vision rehab services, but not all. Ask your insurance company about coverage for low vision care.
The American Academy of Ophthalmology (AAO) offers a great list of resources for people with low vision. There you can find trustworthy organizations that offer information and support to help people with low vision get the care they need.
Living with low vision can be a challenge. But remember that help is available. Low vision therapies and devices can make a big difference in your daily life. So ask about low vision therapy today.
Resource Links: