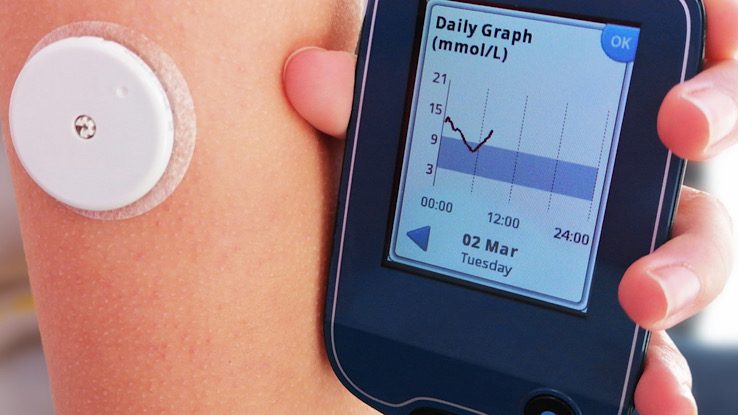 Are you managing your diabetes with daily testing? You may want to try a continuous glucose monitor (CGM). This device can check your glucose levels without a finger prick. Using a CGM, like Freestyle Libre, you can see patterns in your blood sugar levels and take action quickly to keep your health on track. So, what is Freestyle Libre?
Why Choose a CGM?
You may feel like you're doing fine with your regular glucose test kit—you've gotten used to the process. But a CGM can reduce the discomfort of testing while providing valuable information about your glucose levels. A CGM can help you stay on top of the following:
How your glucose levels change over time
If your daily glucose levels are going up or down
How sleep affects your blood sugar
The leading CGMs today include Dexcom, Medtronic, and FreeStyle Libre. Let's explore the FreeStyle Libre and see if it is right for you.
What is FreeStyle Libre?
The FreeStyle Libre, sometimes called Libre FreeStyle, is a non-invasive CGM. Instead of pricking your finger every time you want to check your glucose, you simply scan a sensor that you have inserted just below your skin. The sensor is not permanent; you will need to remove your old sensor and replace it with a new one every 14 days. While the process may sound painful, many users describe the sensation as similar to a single finger prick.
Once the sensor has been scanned and your CGM has provided you with your results, you can adjust your insulin dosing. The FreeStyle Libre flash glucose monitoring system provides detailed data indicating whether your blood sugar is rising, steady, or dropping.
Benefits of FreeStyle Libre
Some of the benefits of the FreeStyle Libre include:
Priced 70% below other CGM systems
Helping to reduce your overall A1c
Water-resistant sensor
No lancets or finger pricks required
Range of reports to help you make informed health decisions
How Does the FreeStyle Libre Work?
The FreeStyle Libre system comes with the following:
FreeStyle Libre sensor — A small device that senses how much glucose is in the body
FreeStyle Libre meter — Shows the results of your blood sugar
Step 1
For FreeStyle Libre to work, you'll first need to insert a tiny glucose-sensitive filament (sensor) under your skin using a handheld applicator. Most users say that inserting the sensor into your skin is virtually painless.
The sensor has a built-in battery and can remain under your skin for up to 14 days. It's also water-resistant (not to be confused with waterproof) for up to three feet for around 30 minutes. You can take a shower or even swim without damaging the sensor.
Step 2
After inserting the sensor into your skin, wait at least one hour before performing a blood glucose test. The one-hour 'warming up' period allows the sensor to acclimate to your body before you start receiving readings.
If you take glucose readings from your FreeStyle Libre before the warm-up period elapses, the meter may provide inaccurate readings. Inaccurate readings may lead to inappropriate insulin administration or an increased risk of high or low blood sugar.
Step 3
After the warm-up period elapses, you can check your blood glucose readings by scanning the sensor with your meter. Place the meter near the sensor, wait until you hear a beep, then the meter will provide your glucose levels.
The meter will relay data detailing your blood sugar levels, a trend arrow, and glucose history for the last eight hours. The device can store data for up to 90 days giving you a chance to better understand your glucose trends.
FreeStyle Libre Apps
If you have a smartphone with near field communication (NFC) scanning capabilities, you can seamlessly pair your smartphone with the FreeStyle sensor. You can also use it to receive your glucose readings instead of using the FreeStyle handset.
To determine if your smartphone is capable of NFC capabilities, you need an Android or iPhone with the following operating systems:
Android OS 5.0 and higher
iPhone iOS 11 and higher
FreeStyle Libre2 App
To use your smartphone to check your blood glucose, download the FreeStyle Libre 2 app on your phone and register with LibreView. 
LibreLinkUp App
To share your glucose readings with others, you can download the app LibreLinkUp. LibreLinkUp allows you to share data with specific people, such as a spouse or parent. They can receive the following data:
Your glucose readings and trends
Updates when your glucose levels are too high or low
FreeStyle Libre Accuracy
The FreeStyle Libre is just as accurate as other CGMs, but your sensor's age plays a big role in your glucose readings. Your sensor is the least accurate on the first and last day of its life. On day one, your sensor is acclimating to your body and glucose, and on day 14, the internal battery is drained.
Something to be aware of is that CGM works with at least a 15-minute delay between your true blood glucose and what your sensor is picking up. This discrepancy comes from the fluid and tissue surrounding the sensor.
This delay in your CGM readings can be dangerous for those experiencing hypoglycemia (low blood sugar) and hyperglycemia (high blood sugar). If you feel that your blood glucose is low or high and your CGM readings are coming back normal, use a standard finger prick test to get the most accurate and current reading of your blood glucose.
Is It Safe?
The FreeStyle Libre 2 system is approved by the U.S. Food and Drug Administration (FDA), and it's safe to use for adults and children ages four and up with type 1 diabetes. Patients with type 2 diabetes may be able to receive a FreeStyle Libre with the recommendation of their doctor.
So far, no major side effects have been reported with the FreeStyle Libre, but you can view the safety data in the FDA report. Be sure to talk with your doctor about the risks of using this device and whether it's right for you.
Sensor Side Effects
Although uncommon, possible side effects of inserting a FreeStyle sensor into your skin include:
Redness
Papule (small bump)
Pain or discomfort
Bruising
Itching
Adhesive irritation
Because of the risk of using the wrong amount of insulin based on an incorrect FreeStyle reading, you should have device-specific training at your doctor's office before using FreeStyle to make insulin dosing decisions.
Does CGM Work Better for Type 1 or Type 2 Diabetes?
A CGM is known to be beneficial for people with type 1 diabetes. And there is newer evidence to suggest that CGM offers similar benefits to people with type 2 diabetes, regardless of whether they use insulin. 
There have been more long-term studies on CGM for type 1 diabetes and fewer long-term studies on CGM and type 2 diabetes. It is not recommended for people with type 2 diabetes who do not use insulin to monitor their blood sugar at home daily. However, for those that do use insulin and need to monitor their blood sugar, medical experts are beginning to recognize the benefit of CGM use.
If you have been diagnosed with type 2 diabetes and you're interested in a CGM, speak with your doctor to determine which brand would work best for your needs.
How Does FreeStyle Libre Stack Up Against Other CGMs?
The FreeStyle Libre can be considered a CGM. However, unlike other CGMs like Dexcom and Medtronic, the older versions of the FreeStyle Libre do not have an alarm to notify you if your glucose levels are too high or low.
The most recent versions of FreeStyle Libre, CGM FreeStyle Libre 2, and FreeStyle Libre 3 come with optional alarms.
FreeStyle Libre 2 alarms don't include glucose readings; you'll need to scan the sensor to check your glucose levels. On the other hand, FreeStyle Libre 3 has a real-time alarm based on your sensor's current glucose readings.
Medical content reviewed by Brittany Stopa, MPH.
Resource Links: