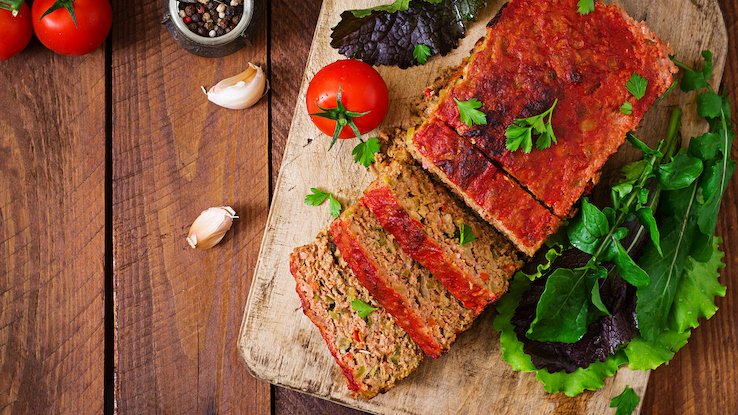 Meatloaf is a classic dinner for many households. Warm and filling, it's often a comfort food of choice. To pull off a perfect moist meatloaf with a tangy topping, you only need to follow a few simple tips. It starts with an excellent basic easy meatloaf recipe.
How to Make Basic Meatloaf
Meatloaf is relatively easy to make, which is why it's such a classic weeknight dinner. Your basic meatloaf consists of ground meat and bread crumbs bound with egg and then shaped into a loaf. To spice things up a bit, you can add diced onions and seasonings to the meat mixture. Before baking, you can also choose to brush the top with a flavorful sauce, often made from ketchup, Worcestershire sauce and a sweetener like honey.
Easy Classic Meatloaf Recipe from The Spruce Eats
In a small bowl, make your glaze — this one uses Dijon mustard for some extra tang. Then, place it in the fridge while you make the loaf.
Combine beef, milk, breadcrumbs, eggs, onion, seasonings and ketchup in a large bowl.
Mix until well combined, and then press it into a greased loaf pan — or create a free-form loaf on a lined baking sheet.
Bake for around an hour. Then, drain off any fat and top the loaf with your glaze.
Return to the oven for 10 to 15 minutes.
When it's done, let rest for 10 minutes under tented aluminum foil.
It should only take around 10 minutes to prepare. The result is an irresistible, quick, easy meatloaf everyone will enjoy! However, there are a few pitfalls to avoid. Read on for some tips to keep your meatloaf from drying out.
Meatloaf Tips and Tricks
Keep It Moist
Several common meatloaf ingredients help preserve the moisture level of your loaf, like the eggs, ketchup and diced onions. But if you find that your meatloaf is drying out in the oven, you may want to consider adding a half cup of milk to your meat mixture. The breadcrumbs will soak it up and prevent the loaf from getting too dry.
Be Mindful of Your Meat Ratio
Another trick to producing a moist meatloaf is the correct meat ratio. Generally, an 80/20 or 85/15 ground beef blend has just enough fat to make your easy meatloaf tender and not at all dry.
Consider Adding Flavor
After you've mastered simple meatloaf, easy additions can boost the flavor. For example, consider changing up your meat mixture by adding ground pork. Instead of just onions, toss in diced veggies. Or, switch up your glaze with a layer of barbeque sauce. Classic meatloaf provides plenty of opportunities to experiment with flavor!
How to Make a Healthier Meatloaf
For many, meatloaf is the epitome of comfort food. However, a loaf of meat mixed with eggs and breadcrumbs can be quite a heavy dish — especially as it's often served alongside mashed potatoes. If you're looking for a healthier version of this weeknight staple, we've got a few terrific ideas!
Suppose you want to tweak your easy, simple meatloaf recipe to cut down on sugar, salt and excess fat. In that case, you only need to make a couple of easy substitutions.
No-sugar-added or low-sodium ingredients can replace traditional sweet and salty ones like ketchup and Worcestershire sauce.
Leaner meats like turkey instead of beef can help cut down on saturated fat, which can help lower your cholesterol.
Finally, think about trading breadcrumbs for whole grains, such as oatmeal. 
These effortless substitutions can boost the nutritional profile of your meatloaf. If you're on the hunt for recipes to make an easy meatloaf healthier, check out these variations!
Ina knows how to make an easy meatloaf healthier while keeping the classic flavor and texture. Turkey is a great lean meat to use in place of beef, which is often higher in saturated fat.
This recipe uses turkey breast instead of beef, yet it's still incredibly flavorful and moist. Chicken stock and tomato paste help preserve the flavor and moisture. And you can choose a low-sodium stock if you're watching your salt.
Easy oatmeal meatloaf is gluten-free and a good way to get some more whole grains in your meal. No one will miss the breadcrumbs because the oats in this mixture perfectly melt into the meat, making for a highly tender loaf.
The addition of mushrooms is another healthy twist that only adds to the depth of flavor and texture. Thanks to traditional ingredients like onions and ketchup, even classic meatloaf fans will love this healthier version.
No-Sugar-Added Meatloaf by Taste of Home
You may be surprised that there's a fair bit of sugar in meatloaf. The glaze is the usual culprit, due to its reliance on brown sugar, honey or maple syrup as a sweetener. But the ketchup added to the loaf itself can also pack in a lot of added sugar.
This delicious recipe omits the sugar and substitutes it with flavorful seasonings and the sweetness of fresh veggies, like onion and sweet red pepper. Ketchup is replaced with yogurt that adds a bit of tanginess and lots of moisture. It's comfort food at its healthiest.
This delicious recipe will teach you how to make simple meatloaf vegan, for a healthy loaf that everyone can enjoy. And you won't have to give up that familiar meaty flavor. Impossible ground beef lends the perfect texture and taste, fooling even the most discerning meatloaf lover. This brand is well-known for achieving an impressive meat-like taste by creating vegan heme — the molecule that makes meat taste like…well, meat!
Keeping the rest of the ingredients faithful to the original helps preserve the taste we have all come to know and love. The best part is it only requires about half the baking time of traditional meatloaf, so you don't have to wait on your comfort food.
Meatloaf Made Healthier
Though it's undeniably delicious, classic meatloaf can often be nutritionally lacking. Making easy swaps produces a healthier version of this traditional comfort food that isn't short on flavor or texture! And if you're looking for even more ways to boost the nutrients in your loaf, you can't go wrong by adding some more veggies. Spinach, bell peppers, carrots and corn are all good options for giving your meatloaf a bit more fresh and healthy flavor.