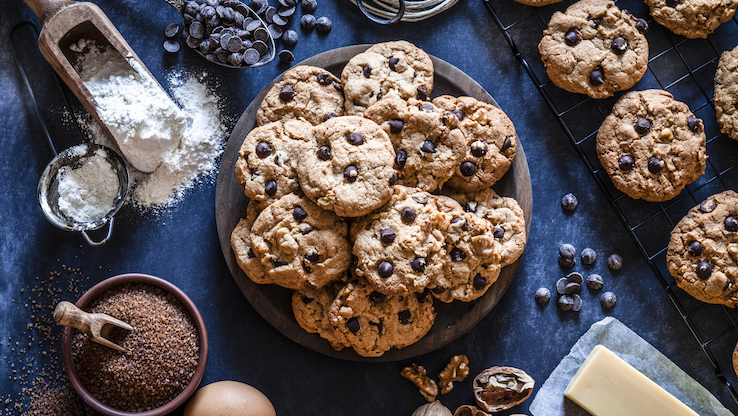 There's just something about a gooey chocolate chip cookie that satisfies a sweet-tooth craving like nothing else can. Thankfully, there are a ton of delicious cookie recipes that cater to a variety of lifestyle choices and dietary needs. We promise these new takes on the classic chocolate chip cookie recipe will produce a cookie to rival grandma's!
Gluten-Free Chocolate Chip Cookies by Meaningful Eats
It's no easy feat to find a good gluten-free cookie. Flour alternatives can have a tendency to turn cookies dry and grainy. Not these dreamy chocolate chip cookies, though! 
A few simple tricks keep them moist while introducing levels upon levels of flavor. Additions like brown butter and almond flour may not seem too fancy, but they really pay off. And we know it's hard to be patient, but letting the dough rest also helps to hydrate it, producing a soft and chewy cookie. The best part is you can use whatever all-purpose GF flour you have on hand — no need to run to the store for a specific type.
Air Fryer Chocolate Chip Oatmeal Cookies by Taste of Home
We were admittedly skeptical at first. It sounded too good to be true. But it's not a lie — you can have chewy, golden brown cookies in under 10 minutes of cook time.
The recipe follows your standard oatmeal chocolate chip cookie recipe, with typical ingredients like butter, sugar, eggs, flour and oats. However, there's one unexpected addition — instant vanilla pudding! It keeps the texture super soft and doesn't let the cookie get too crunchy in the air fryer. So, in the end, you'll get to enjoy a cookie that's crispy on the outside and melty on the inside.
Rainbow Chocolate Chip Cookies by Cookies and Cups
Believe it or not, sometimes our kids need convincing when it comes to chocolate chip cookies. This fun and vibrant recipe will have them on board with your basic recipe quicker than you can say chip!
Thick, chewy, chocolatey and colorful? You bet! A bit more flour added to a traditional chocolate chip cookie dough recipe produces the perfect canvas for adding food coloring gel. With a bit of mixing, twirling and rolling, you can make a stunning (and tasty) cookie, the likes of which the bake sale has never seen.
People aren't likely to believe you when you tell them these cookies are vegan. Likewise, vegans aren't likely to believe you when you tell them they don't require special ingredients like chia seeds or flax meal!
How do these secretly vegan cookies do it? They use all the classic cookie ingredients, just in vegan versions. The recipe includes staple ingredients flour, plant-based milk and sugar. However, it's versatile enough that you can sub in your favorite products or brands. By keeping it sweet, simple and free from animal products, you'll get a mouthwatering cookie that even non-vegans will love.
Classic Bakery-Style Chocolate Chip Cookies by Handle the Heat
Bakery-style chocolate chip cookies are thick, soft in the middle, crispy on the edges, and have notes of rich flavors. This recipe perfectly marries those bakery characteristics with an easy everyday recipe — it's the best of both worlds.
The trick is in planning and preparation. Careful measuring of your ingredients is highly recommended. Additionally, you'll need to make these well in advance, as they require around 24 hours of chill time. But they're incredibly worth it — gooey, indulgent and never flat.
Do you have baking staples, a microwave and a craving for a warm chocolate chip cookie? If you answered yes to any of these questions, this recipe is for you!
This recipe is a petite version of the classic cookie recipe, perfectly sized to be prepared, cooked and eaten from a mug. It's the ideal way to enjoy a treat in moderation or a great go-to for when you're short on time. The secret is not to overcook the mixture, or it will get dry. Though, if you do, it's probably nothing a spoonful of ice cream can't fix!
There are many reasons for wanting a cookie to be lower in sugar, including everything from dietary restrictions to having young toddlers who want to enjoy a treat. We love that these date-sweetened chocolate chip sugar cookies mean we can enjoy without worrying about added sugars! 
Medjool dates are lightly sweet and provide a nice soft texture to boot. Healthy inclusions like rolled oats, avocado oil and whole wheat flour make this recipe a great go-to for when you want dessert but don't want to deviate from your diet choices. Make them entirely added sugar-free by using sugar-free chocolate chips or swapping out the chips entirely for dried fruit or nuts.