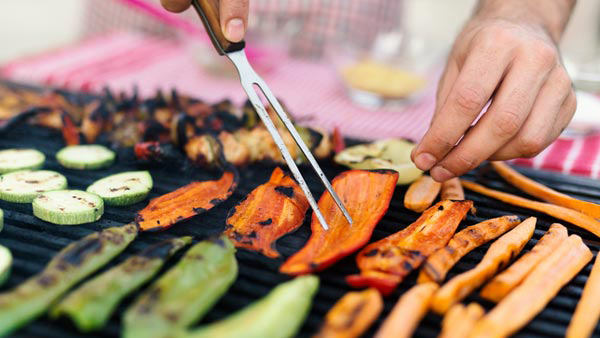 According to the American Diabetes Association, about 34 million people in the United States — both adults and children — are living with diabetes, and an additional 1.5 million people are diagnosed every year. Adding to the problem, approximately 88 million Americans have prediabetes, a condition that often develops into Type 2 diabetes if specific life changes aren't made to stop the progression of the disease.
Establishing a healthy lifestyle with plenty of exercise and a healthy diet is one of the most important components in controlling diabetes and stopping prediabetes from turning into Type 2 diabetes. If you have diabetes, the key to optimal health without complications is keeping your blood glucose level within your target range, and that starts with healthy eating habits. 
What Is Meal Planning?
Meal planning is an essential tool when you or someone in your family is living with diabetes. Organizing a plan and following it helps you maintain control of your food choices and simplifies your meal prep each day. It's much easier to slip into old habits and make poor eating decisions when you don't have a plan and find yourself scrambling for meal ideas that you can make in a hurry.
Fortunately, many resources are available to help you put together the right plan for making meals designed to help you manage your blood sugar and your diabetes without sacrificing taste. Various medical websites and diabetes support websites, such as Diabetes Food Hub sponsored by the American Diabetes Association, offer printable diabetes meal plans and recipes that make it convenient to put together your weekly menu without spending tons of time researching ideas on your own.
eMeals Planning App
If you're interested in optimizing your meal planning process to save valuable time each week, eMeals offers breakfast, lunch and dinner planning menus created by both chefs and dietitians. You can choose meals designed specifically for those with diabetes, featuring lean meats and fresh vegetables to help you achieve glycemic control.
In addition to meal planning and recipe assistance, the app automatically creates a shopping list based on your meal choices. It coordinates with several grocery pickup services, or you can do all your shopping yourself. eMeals also offers a free trial for 14 days, so you can see if it's a good fit, and it has 24-hour support via live chat online or by phone.
American Diabetes Association
The Diabetes Food Hub on the American Diabetes Association's (ADA) website offers free meal planning assistance and recipes. The information found on the ADA's website is valuable in a multitude of ways for anyone living with diabetes. When it comes to cooking, the Food Hub is a virtual one-stop-shop for finding delicious, healthy recipes that are low in carbohydrates and saturated fat.
The site is streamlined and user-friendly to help you make the most of your time. Scrolling over a recipe that looks good to you automatically pops up a box with serving size, calories, carbohydrate, fat and protein content for that particular recipe. If you decide you want to try it, you can save it to your recipe box on the ADA website to easily locate it for future use.
Superfoods and Diabetes
Although the term "superfood" has more to do with marketing than an official FDA classification, it's not wrong to say that foods packed with heavy doses of vitamins, minerals and antioxidants deserve to be called "super." When it comes to providing these key nutrients and controlling blood sugar, it certainly won't hurt to add some nutrient-rich superfoods to your diet.
When choosing the superfoods you want to eat each day, be sure to pay attention to the different carbohydrate and protein values in the different foods. Beans, for example, are a little high in carbohydrate, but they are worthy of occasional inclusion, thanks to the protein they provide without all the saturated fat. Citrus fruits are also higher in carbohydrate, but they provide much-needed vitamin C, potassium, folate and fiber.
Despite the name, sweet potatoes make a good alternative to regular potatoes due to their vitamin A content. Dark green leafy vegetables provide some iron, which can be important if you don't eat red meat. Other superfoods to incorporate — again, with a close eye on carbohydrate counts — include whole grains, milk and yogurt, berries, nuts, tomatoes and fish high in omega-3 fatty acids.  
Example of a Daily Meal Plan
If you're just learning the ropes and aren't sure what a daily menu should look like for someone with diabetes, it should consist of healthy fats, lean proteins and complex (non-starchy) carbohydrates. Food choices and recipes should steer clear of refined carbohydrates, sugars and saturated fats. In general, it doesn't contain — or barely contains — the obvious foods that go with any poor diet, such as breaded and fried meats and sweets like candy and cookies.
Instead, a sample breakfast might consist of Greek yogurt and blueberries, followed by turkey and cheese on a whole-grain pita and a mixed greens salad for lunch. Dinner might be brown rice, roasted brussels sprouts and grilled pork chops. Snacks could consist of fresh berries or a handful of walnuts or pistachios.
Meal Planning Your Way to a Healthy Life
When it comes to creating meals designed to help you manage your diabetes, it's generally a good idea to forget about all the latest trends and fad diets and go back to the basics of healthy eating. Whether you have diabetes or any other health condition where your diet is important, a healthy eating plan always has a few things in common. It should focus heavily on lean proteins (or plant-based proteins), non-starchy vegetables, fruits, and minimal added sugar and salt.
Above all, it's important to keep your blood glucose level within your target range when you're living with diabetes, and diligent meal planning helps you do this with less room for potentially dangerous errors. Life is complicated, but a wide variety of resources can help you organize the right plan for you and your family.
Resource Links:
https://www.diabetes.org/resources/statistics/statistics-about-diabetes
https://www.diabetes.org/nutrition/meal-planning
https://www.diabetesfoodhub.org/
http://emeals.com/meal-plans/diabetic/
https://www.diabetes.org/nutrition/healthy-food-choices-made-easy
https://www.diabetes.org/nutrition/healthy-food-choices-made-easy/diabetes-superfoods