Whether you're away at work all day or you're just a busy stay-at-home parent who spends your days taking care of kids and chores, you will always have days when cooking a meal is the last thing you want to do. Days like those call for the magic of Crock-Pot cooking. It's hard to beat the simplicity of adding some ingredients to a Crock-Pot and turning your attention to other things while dinner makes itself. That's really all it takes to make a delicious one-step meal for the entire family.
Not only does cooking in a Crock-Pot make it easier to get dinner on the table, but it also helps tenderize meats by cooking them at a low temperature for a longer period of time. This cooking method also adds more flavor to your food and allows you to cook practically anything, from a pot roast to a delicious dessert. Literally thousands of slow cooker recipes are available for home cooks to try, but these five delicious options certainly deserve a spot in your dinner rotation.
Spaghetti and Meatballs
Spaghetti and meatballs are a family favorite, and the dish is relatively simple to make, even on the stove. Robust tomato flavors blend perfectly with Italian seasonings and hearty pasta to make a satisfying dinner you could probably get away with making once a week. To make this meal even easier, cook this Italian specialty in a Crock-Pot.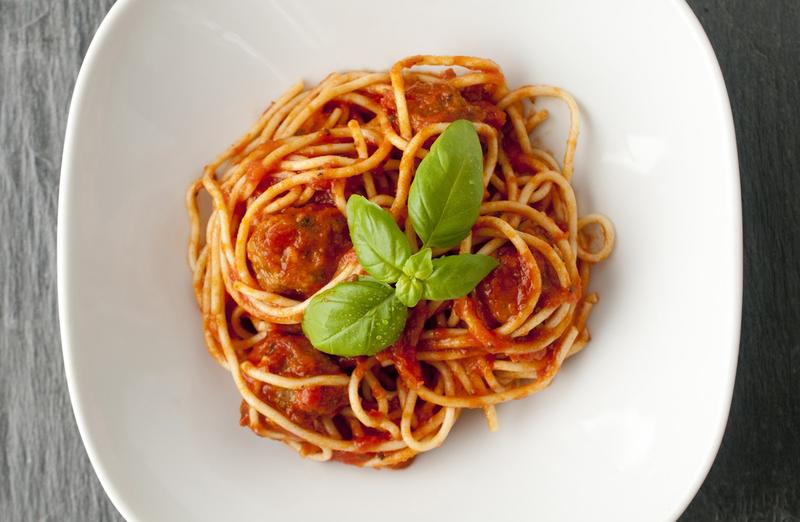 All you have to do is make your own meatballs or use some pre-made meatballs and place them in the Crock-Pot. Cover them with your favorite homemade or jarred pasta sauce and set the Crock-Pot to cook for three hours on high or five hours on low. Stir in one and a half cups of chicken broth and the spaghetti noodles and cook on low for another hour and a half. Stir every 30 minutes to prevent the pasta from clumping and add more broth as needed. Serve with warm garlic bread and fresh grated parmesan or another Italian cheese.
Want some step-by-step guidance for making your own homemade meatballs and pasta sauce? Check out the full recipe for all the details.
Chicken Tortilla Soup
The Crock-Pot is great for making soups, and chicken tortilla is one of the best for satisfying the taste buds of your entire family. The zesty — but not too spicy! — flavors leave you feeling warm and content, making this soup the perfect comfort food in chilly weather.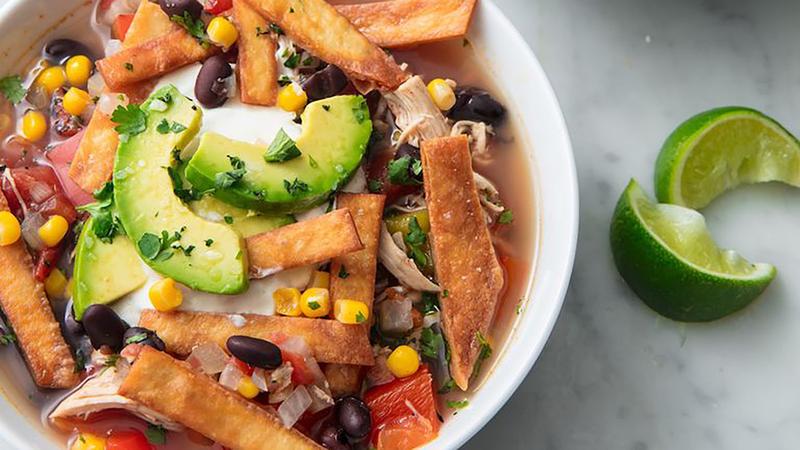 All you have to do is add one pound of boneless skinless chicken breasts and all the soup ingredients to your Crock-Pot and cook on low for about five to six hours until the chicken easily falls apart with a fork. The other soup ingredients include chopped bell peppers, chopped onion, black beans, corn, canned fire-roasted tomatoes, chopped cilantro, minced garlic, chicken broth, and a spice blend of cumin, chili powder and salt. When everything is cooked, shred the chicken, add a cup of Monterey Jack cheese on top, and cover and simmer until the cheese melts.
Ready to get started? Take a look at the full recipe for all the spicy details. And don't forget to garnish the hearty bowls of soup with all your family's favorites — crispy tortilla strips, slices of avocado, a dollop of sour cream, lime wedges, etc.
Fajitas
Forget Taco Tuesday. With your handy Crock-Pot loaded and ready to go, you can take Mexican night to the next level in your home with Fajita Friday. If your family is a fan of the delicious — but usually quite pricey — Tex-Mex favorite, this recipe will turn you into a kitchen superstar in your household.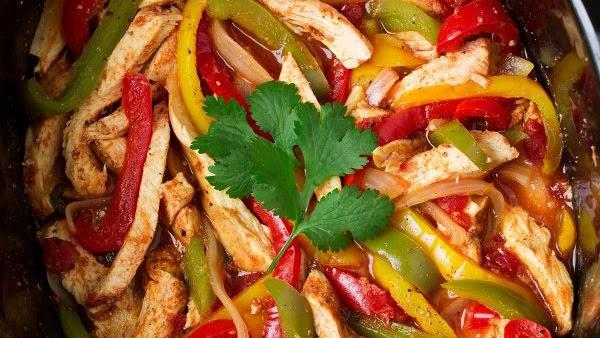 To make these simple slow-cooker fajitas, pour half a can of diced tomatoes with green chilies in the bottom of the Crock-Pot and top with sliced bell peppers, sliced onion, minced garlic and two pounds of boneless skinless chicken breasts. Mix a seasoning blend of cumin, chili powder, coriander, paprika, salt and black pepper and sprinkle half on each side of the chicken breasts. Pour the remaining diced tomatoes and green chilis on top of the chicken and add more sliced bell peppers and sliced onions. Cook on high for two to three hours or low for four to six hours.
When it's finished cooking, slice or shred the chicken and put it back in the Crock-Pot. Remove some of the excess liquid and add with a blend of lime juice and honey. Check out the full recipe to see the exact quantities for each ingredient.
Buffalo Wings
Buffalo wings may not be the first food that comes to mind when you think of Crock-Pot meals, but once you try them, you may completely change your mind and want to make them every weekend. If you're a fan of dipping your buffalo wings in a creamy sauce, then you will adore this recipe's secret ingredient: ranch dressing mix.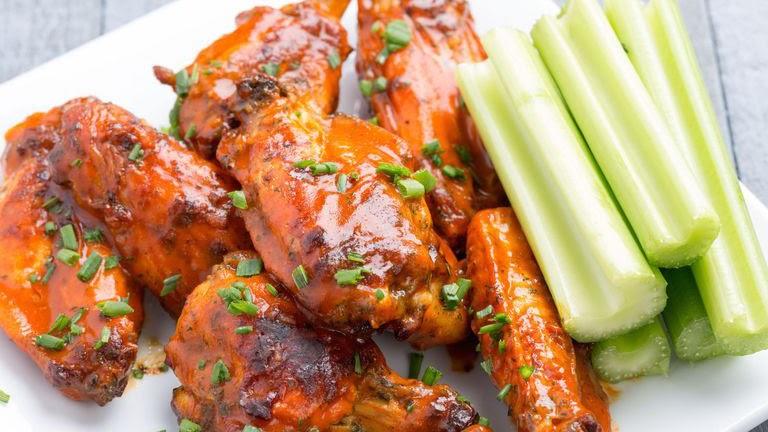 Start by putting two pounds of wings in your Crock-Pot. In a bowl, mix your favorite buffalo wing sauce with a packet of dry ranch dressing mix and salt and pepper. Pour the sauce over the wings and toss to ensure all the wings are coated. Cook on high for about three hours. When the wings are done cooking, turn on your broiler, place the wings on parchment paper on a baking sheet and broil them for about five minutes to get a crispy coating.
Serve with creamy ranch or blue cheese dressing and celery sticks. Check out the full recipe here.
Mississippi Pot Roast
A pot roast may be the first thing that comes to mind when you think of cooking in a Crock-Pot — and for good reason. Cooking most cuts of beef slowly at a low temperature allows the cuts to tenderize and absorb all the rich flavors. One of the most popular — and easiest — pot roast recipes is Mississippi Pot Roast.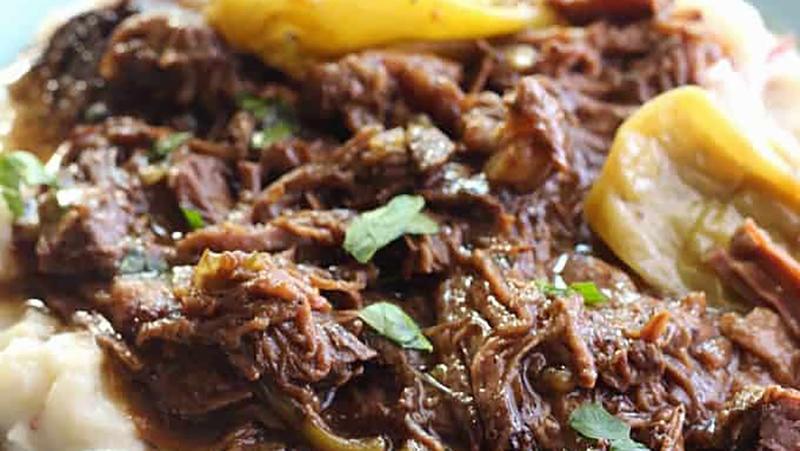 To make this family favorite, place a chuck roast — or any other cut of roast — in your Crock-Pot and sprinkle a packet of dry ranch dressing mix and a packet of dry au jus mix on top. Slice a stick of butter and place the pieces on top, followed by jarred pepperoncini peppers. The quantity depends on how much spice you like. Cover and cook on low for about eight hours.
The complete recipe is online along with suggestions for tasty additions like baby carrots and russet potatoes to make a delicious side dish.