If you're looking for a great new dish to prepare for gatherings with family and friends, then check out this collection of amazing spinach dip recipes. Whether you're looking for an easy classic spinach dip recipe or new twists on familiar favorites, we've got you covered.
Here you'll find plenty of options to suit both your cooking level and timetable. We've got last-minute recipes that can be prepared in five minutes or less, as well as bacon-fueled, cheesy masterpieces that will win over even the most stubborn spinach hater.
Health Benefits of Spinach
Spinach is a nutritional powerhouse. It's low in calories, but high in important vitamins and minerals. For example, spinach is a good source of:
Vitamin A — key for protecting your vision, skin and immune functions
Vitamin K — key for helping your blood clot
Folate — key for making new cells and for a healthy pregnancy 
All these benefits make spinach a big win for your health! Eating more spinach and other dark leafy greens is a great way to improve your eating routine. Spinach is also easy to prepare and cook. You can make a simple salad with baby spinach, sauté spinach with garlic and olive oil as a quick side dish, or make one of the tasty spinach dips we've collected below.
Of course, the nutrition facts for raw spinach are very different from the nutrition facts for a spinach dip. While spinach is nutrient-dense and very low in calories, dips are often higher in calories and saturated fats. So just be aware of the other ingredients you're using and how they stack up.
Keep It Simple With This Classic Spinach Dip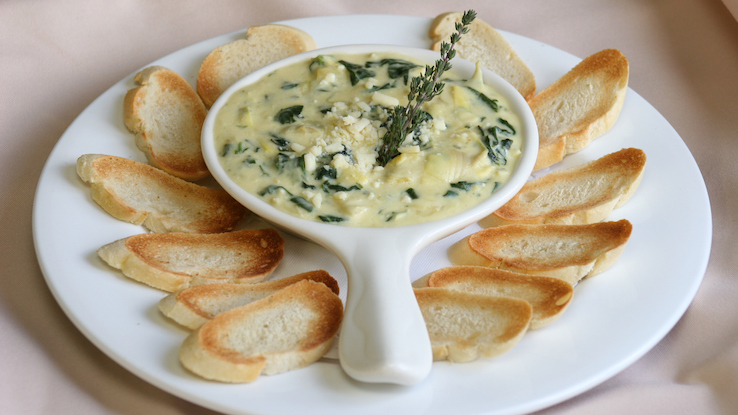 Let's face it, sometimes we all find ourselves devoid of inspiration when it comes to whipping up an impressive dish for our next gathering. Luckily, you don't have to toil for hours at the stove to be a hit at your next potluck. You only need 20 minutes to pull together this Classic Creamy Spinach Dip by Epicurious. You can even make this dip a day ahead if you know you'll be short on time.
This dip uses frozen spinach (which cuts way down on the prep time) along with cream cheese, butter and heavy cream for a rich taste your guests are sure to love. The only other things you'll need are a shallot, paprika, kosher salt and pepper. Just make sure to press as much liquid as you can out of the thawed spinach before you cook, so you don't water down the delicious flavors.
Mix Things Up With a Bacon Cheese Spinach Dip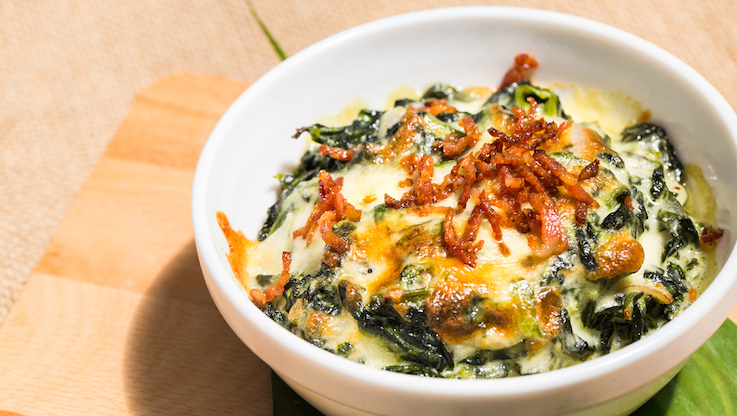 Who says spinach dip always has to focus on the veggies? When you're in the mood for something a bit more decadent, it's time to bust out this delightful Cheesy Bacon Spinach Dip recipe from Delish. This dip doesn't hold back on the full-fat ingredients, as you'll notice from the first item: 10 slices of bacon.
The recipe calls for a mix of cream cheese, mayo and sour cream for the creamy base — and for even more dairy power, you'll also add parmesan and mozzarella for good measure. And lest we forget the unifying ingredient here, you'll need a pound of spinach in there too! Season with garlic powder and paprika and bake in the oven. And remember that this is an especially rich one, so plan to share it with plenty of friends.
Warm Up With This Melty Spinach Artichoke Dip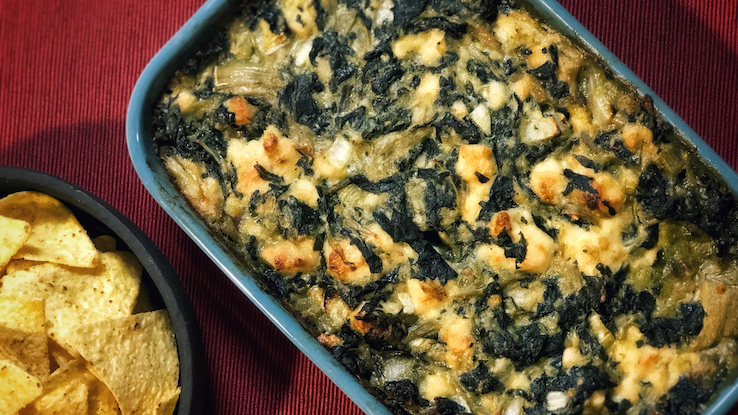 Spinach and artichokes are sort of like the peanut butter and jelly of the dip world. With the powers of the two combined, you can't go wrong. If you're looking for a deliciously warm and cheesy version, then check out this recipe for Spinach Artichoke Dip by Cooking Classy. Aside from the frozen spinach and canned artichoke hearts, it calls for a familiar creamy base made from cream cheese, sour cream and mayo.
Looking to take it easy on the calories? The recipe suggests some swaps for light cream cheese, light sour cream and (you guessed it) light mayo instead. Use garlic and pepper to spice things up a bit, and don't forget the delectable top layer of mozzarella and Parmesan cheese. Serve with toasted baguette slices or a nice hearty whole-wheat cracker.
Try This Ranch Spinach Dip For an Easy Last-Minute Recipe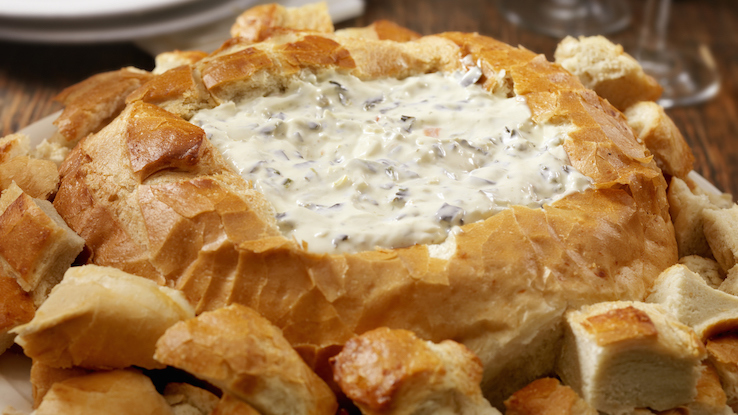 It's happened to all of us. Somewhere in the back of your mind, you know you need to prepare a dish for an upcoming event. Then life happens, and you suddenly realize that the event is in just a few hours! What to do? Consider this Bread Bowl Ranch Spinach Dip from Hidden Valley as your secret weapon. The entire thing takes only about five minutes to assemble, making it the perfect last-minute recipe.
All you'll need is sour cream, a trusty packet of ranch dip mix, a pack of thawed frozen spinach, chopped water chestnuts and a round loaf of French bread. The French bread comes into play by serving as a handy, edible bowl for the dip. That way, you don't even have to worry about keeping track of your dish when the event is done.
Veg Out With This Low-Fat Spinach Dip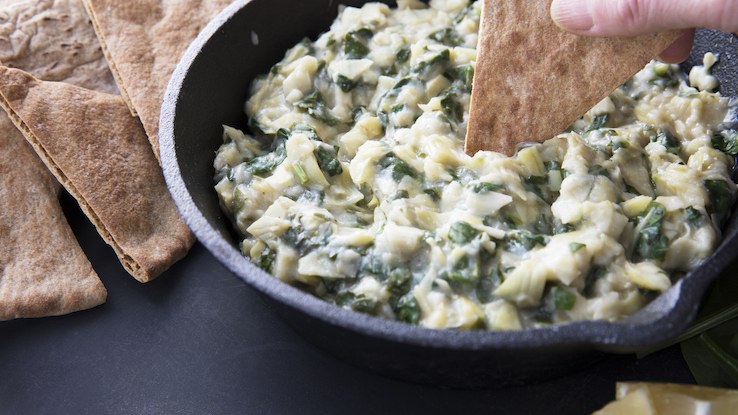 If you want to enjoy a delicious spinach dip without as much fat, check out this Low-Fat Spinach Dip recipe from Spruce Eats. In place of the full-fat dairy ingredients in most recipes, this version uses nonfat cream cheese and plain nonfat yogurt. And it suggests swapping in plain Greek yogurt if you're looking for a little more protein.
Where most spinach dip recipes use frozen spinach, this one calls for steamed fresh spinach. Just make sure to press extra water out of it the same way you would with frozen. And if frozen spinach is all you have, don't worry — that will still work just as well in this recipe!
To make this an even healthier choice, try serving it with fresh veggies for dipping instead of chips.