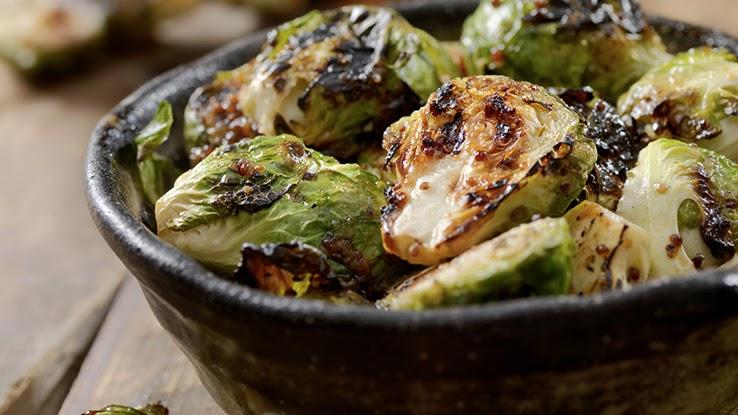 Sweet, nutty, and just the right amount of crunch — bright and flavorful brussels sprouts don't have to be the bitter dinnertime disappointments you used to dread as a kid. With the right cooking technique, seasonings and a few key add-ins, it's easier than you think to transform these pint-sized veggies into the perfect side dish. That "right cooking technique" happens to be roasting — a set-it-and-generally-forget-it method that results in rich, robust flavors after just a few minutes of prepwork.
Ready to revitalize your recipe repertoire? We've put together this tasty collection of basic roasted brussels sprouts dishes — along with some helpful cooking tips — to get you started. Whether you're craving something comforting on a cold winter weeknight or you're serving a big group over the holidays, these hearty recipes are sure to delight.
How to Select the Best Brussels Sprouts
The best brussels sprouts recipes start out with high-quality veggies as the base. Not all brussels sprouts give you the same flavor and texture, though, and it's important to be selective about the sprouts you pick out.
To get the best results from roasting, opt for bright green sprouts — the more compact the better. That doesn't mean they need to be small in size; it means their leaves should be tight and crisp, not loose and wilting.
Look for brussels sprouts that are still on the stalk, too. They generally tend to be fresher, and you can store them in the fridge for a few weeks if needed. If you're buying prepackaged brussels sprouts, avoid bags that contain moisture, which can lead to wilting and brown spots.
When it comes to size, smaller brussels sprouts do tend to be sweeter, and larger brussels take on a more cabbage-like texture. That's actually great for roasting, though; it means they can stand up to higher temperatures without turning rubbery.
And one more secret: You can roast frozen brussels sprouts — without thawing them first. The recipes listed here do work best with fresh veggies, but pre-roasting frozen sprouts before mixing in the remaining ingredients halfway is an option if you're in a pinch.
Tips for Cooking Brussels Sprouts
Another area where brussels sprouts shine is with their versatility — you can eat them raw and diced into a salad, pan-fried in a cast iron skillet or tossed with seasonings and roasted in the oven. Because the recipes below all involve roasting, we want to give you a few simple tips to help you get that perfect caramelization every time.
To start, trim your brussels sprouts to remove the stem — it's just not the texture you want to munch on. Then, peel off any leaves that have turned brown. For roasting, most recipes call for quartered or halved brussels sprouts. Try to keep your halves or quarters the same size to be sure they cook evenly; leaving larger pieces can prevent some from softening properly.
Brussels Sprouts With Balsamic Vinegar and Honey
This recipe from Once Upon a Chef offers a quick and simple way to bring out a ton of flavor in your brussels sprouts. The balsamic vinegar and honey both serve to caramelize the sprouts, creating an irresistibly crunchy shell over each bite, and their sweetness pairs well with the naturally nutty, smoky flavor of the veggies.
This recipe comes together in just about 30 minutes and is mostly hands-off, save for some initial prepping and a quick stir at the halfway point. You'll start by halving your sprouts and tossing them with oil, salt and pepper before roasting them on a sheet pan. Then, you'll coat the sprouts with a drizzle of honey-balsamic glaze before finishing them up with another quick stint in the oven. One helpful tip: Line your sheet pan with foil to keep the sprouts from sticking — this also makes cleanup a breeze.
Easy Brussels Sprouts With Garlic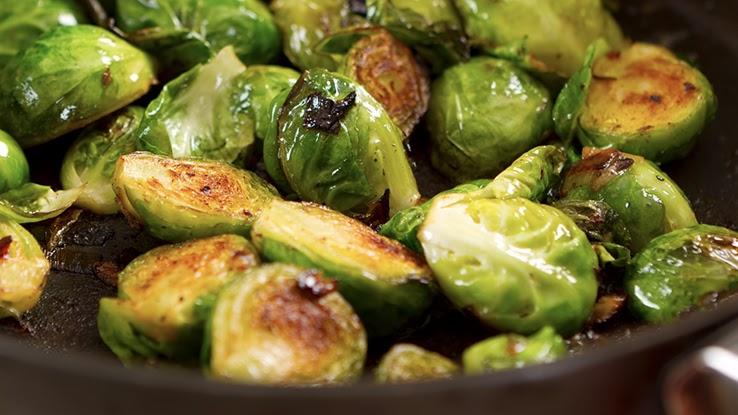 When you want to keep your sprouts on the savory side, this recipe from The New York Times Cooking is sure to delight. It pairs the mild flavor of brussels sprouts with earthy garlic, salt and pepper, along with an optional sprinkling of balsamic vinegar if you're in the mood for some sweet acidity.
To speed up the cooking process a bit, you'll complete the initial roast of the sprouts on your stovetop in a cast iron pan that you'll pop into the oven for the final roast. You'll also want to use fresh cloves of garlic for the recipe. Garlic powder and dehydrated minced garlic just don't impart the same level of flavor, and because there aren't too many seasonings here, you really want the basic ingredients to stand out.
Brussels Sprouts With Bacon
Have friends or family members who are still on the fence about brussels? This recipe from A Family Feast will have them changing their tune. Peppery, smoky and oh-so savory, the combination of brussels sprouts and bacon produces a match made in roasted heaven.
As if that weren't enough, this recipe also couldn't be easier. Aside from some quick chopping here and some tossing there, you won't need to do much work to help this dish come together — leaving you with plenty of time to get the rest of your meal cooked and ready.
Garlic Parmesan Roasted Brussels Sprouts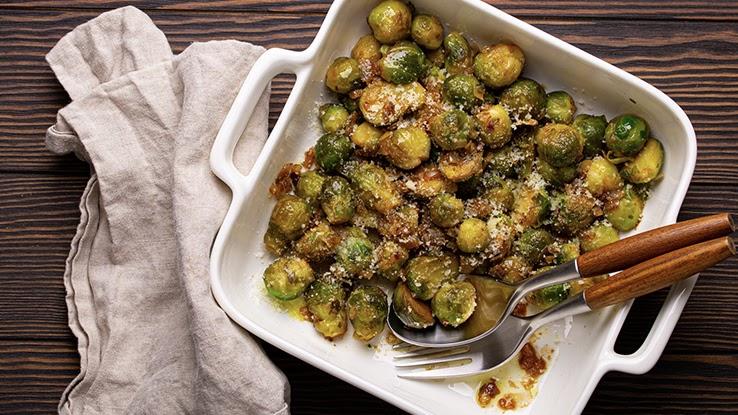 If your family's weekly spaghetti night could use a little innovation, why not replace the garlic bread with some sprouts? These easy sheet pan roasted brussels from Eat Well 101 boast a blend of flavors — they're tossed in parmesan cheese, Italian herbs and fresh garlic — that's equally as good with marinara and meatballs as it is with lemon roasted chicken.
Like the other recipes on this list, you'll start out by cleaning and halving your brussels sprouts and tossing them with the remaining ingredients. But, you won't have to pay too much attention to them once they're in the oven. Unlike the other recipes on this list, you don't need to stir or flip them halfway through the roasting process.
Brussels Sprouts With Bacon, Pecans and Cranberries
Didn't think brussels sprouts could be elegant? This roasted brussels sprouts recipe from Julia's Album will change your mind. With the addition of plump, tart cranberries and salty bacon — not to mention perfectly toasted pecans — you can transform your sprouts into a side dish worthy of a sophisticated holiday dinner table.
Speaking of holiday dinner preparations, the authors of this recipe note that it's easy to make these brussels sprouts a day or two ahead of time and reheat them in the oven. If you go this route, wait to add the pecans until you're getting ready to serve the dish. Otherwise, they might lose their crunch, and you'll want to enjoy all the fantastic textures and flavors this recipe has to offer.