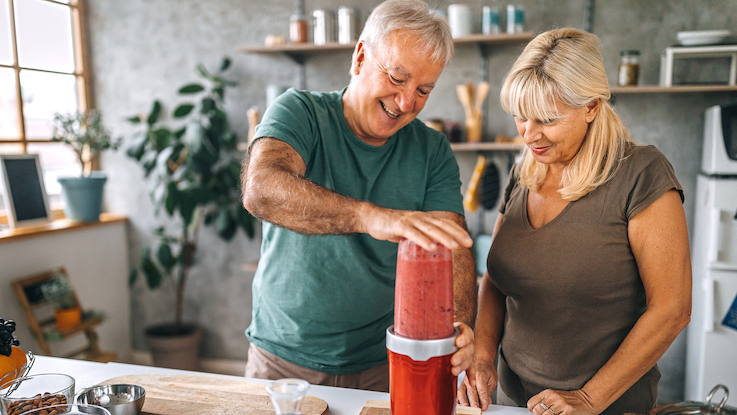 When people hear "protein shake," the first thing that comes to mind is often an image of a muscular bodybuilder. But you don't have to spend all day at the gym to benefit from protein shakes.
Protein shakes and smoothies provide a convenient way to recover from workouts by helping you repair damaged tissues and improve muscle performance. You can take a ready-to-drink packaged options with you to refuel after a session at the gym, or keep them on hand to drink after home workouts.
But aside from workout recovery, protein shakes also offer an easy way for anyone to add more protein to their diet — which is especially key for older adults. We naturally lose muscle mass as we age, which can lead to weakness and increase the risk of falls. Boosting protein is key to preventing muscle loss and maintaining strength.
And since protein is very filling, drinking protein shakes may help you feel full throughout the day. Just be aware that it's also easy to drink a lot of calories without realizing — so don't overdo it on the shakes and smoothies.
Try Protein Powder for Convenience
Protein powders offer a convenient way to make protein shakes. You can take a small packet with you and mix it with some water whenever you need a boost, so you'll always have some protein handy while on the go.
These powders come in different types, such as whey protein, egg protein, pea protein, hemp protein and more. That makes it easy to find one that fits your dietary requirements.
However, protein powders have some drawbacks. For one thing, they can be expensive. And too much protein powder may lead to side effects like nausea and bloating. Many powders and pre-made protein shakes and powders also contain a lot of added sugars or artificial sweeteners, making them less healthy than they seem.
Make Your Own Protein Shakes — No Powder Needed
If you don't want to use protein powder, you can add protein-rich whole foods to boost the protein content of your shake or smoothie. Try these protein boosts in your next shake:
Peanut, almond or other nut butters
Greek yogurt
Cottage cheese
Milk, soy milk or other plant-based milks
Chia, flax, sunflower, pumpkin or other seeds
Silken tofu
You can also add a touch of natural sweeteners like honey, agave, pure maple syrup or 100% fruit juice to make your shakes a bit sweeter. Just be aware that these are all still added sugars — which means they add a lot of calories, but few or no nutrients — so it's best to use them in moderation.
For a more nutritious way to sweeten your drinks, try using whole fruits like bananas or berries. Whole fruits provide fiber and other nutrients along with the sweet taste. You can keep frozen fruits on hand as a quick way to flavor your shakes. And as a bonus, frozen fruit is often cheaper than buying fresh — especially when your favorite smoothie-boosting fruits aren't in season.
Best High-Protein Shake Recipes to Try
Ready to make your own high-protein shakes? Here are some recipes to get you inspired. And remember, if you don't have a certain ingredient on hand, smoothie recipes are very forgiving. It's easy to sub in alternatives like a different plant-based milk or nut butter of your choice. And if you use unsweetened milks, yogurts and nut butters, these shakes can have no added sugars.
Greek Yogurt Protein Smoothie
If you want to try making your own protein shake without the powder, check out this fruity greek yogurt smoothie from Well Plated. Greek yogurt, oatmeal and peanut butter provide all the protein you need. In fact, you'll get 25 grams of protein in this shake, with no powder required. Banana and frozen strawberries bring the fruit flavor along with healthy fiber and antioxidants, and you can add an optional squeeze of honey for extra sweetness.
Peanut Butter Oatmeal Protein Shakes
For a super simple vegan option, try this 4-ingredient peanut butter oatmeal smoothie from Chef Savvy. It uses peanut butter, rolled oats, banana and soy milk to keep you full and energized. It includes nearly 15 grams of protein and nearly 5 grams of fiber.
For another variation, this protein shake recipe from Simple Vegan uses only 6 ingredients and provides a solid 20 grams of protein. It gets a healthy vegan protein boost from peanut butter, oats, soy milk and flax seeds — plus a dose of sweetness from fresh banana and extra flavor from unsweetened cocoa powder.
Blueberry Tofu Protein Smoothie
And if you're looking to switch up the flavor profile, check out this blueberry tofu smoothie from Spruce Eats. You just blend silken tofu with banana, blueberries, soy milk and a bit of ice — and in no time at all you'll have a bright-hued drink packed with 19 grams of plant-based protein.
Which Protein Shake is Best For You?
The great thing about protein shakes is that they're infinitely customizable. You can add different ingredients to suit your dietary requirements and add important nutrients to support your health.
Best of all, you can mix and match your favorite ingredients to create your own best-tasting protein shakes!
Resource Links: