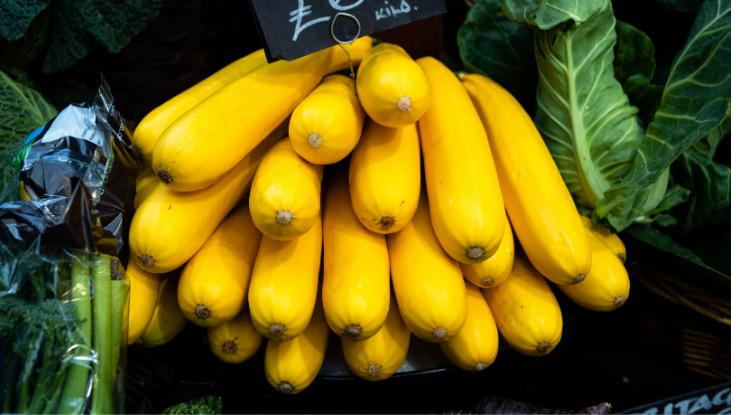 If you're looking to add more vegetables to your diet, you aren't alone. People are always looking for tasty ways to cook that are still good for the body, particularly during a time when many have packed on their share of "pandemic pounds" — yes, there's an actual name for our pandemic weight gain. On the other hand, maybe you just want to try new ways to enjoy delicious, nutritious veggies. We've got that covered as well!
Whatever your reason for turning to garden vegetables, yellow squash is one of the best options to add to your cooking repertoire. Many people substitute squash for other foods — pasta and rice, for example — but squash doesn't just have to be a substitute dish. It can be a delicious addition to any family meal, including holiday meals like Thanksgiving and Christmas.
Ready to make a vegetable-centric culinary change? Start with these unique, interesting and delicious yellow squash recipes that will ensure you never find this vegetable boring again.
What Are the Health Benefits of Yellow Squash?
As a gourd vegetable, yellow squash comes packed with valuable nutrients your body needs, including vitamins A, B and C, manganese, potassium, folate, magnesium and phosphorus. It even offers a nice dose of daily fiber. However, before you pull out your baking sheet and open your spice drawer, you also need to consider a few other things that could make a difference in your cooking approach.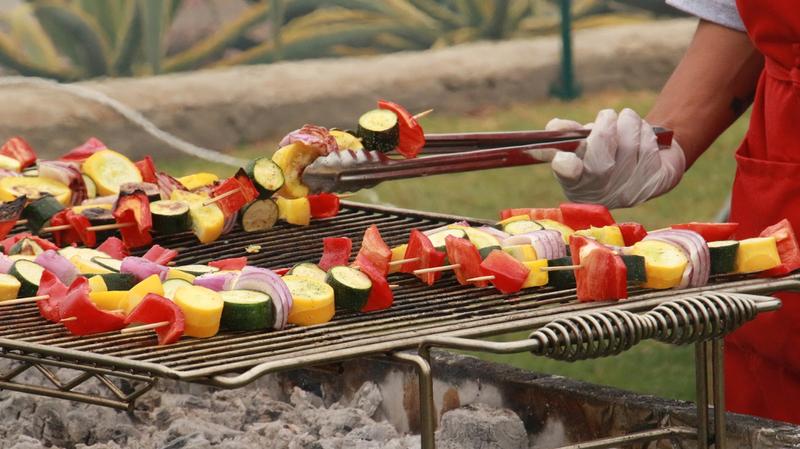 For example, if you want to cook squash because it's a low-fat, high-fiber vegetable, then you have to be careful about the fats you use — and how much of them — in your cooking process. While you may need to use some type of fat, there's a big difference between the flavors and health benefits in a range of fats. The saturated fat in butter doesn't offer the same benefits as high-quality oils like olive or avocado.
Additionally, the spices and seasonings you choose make a big difference when you're cooking. The general best practice is to use the type and amount of seasoning indicated in a recipe unless it specifically tells you to adjust the amount of spice to your taste. You also want to make sure the spices you use are fresh. Over time, spices lose their potency and don't have the same effect in recipes, which can alter the flavor.
Old School Squash Casserole
If you ever doubted it, this recipe proves that traditional squash casserole doesn't have to be a mushy, bland burden on your diet. Instead, it can be rich, layered and deliciously satisfying. This recipe is perfect for a weekend event but is also easy to prepare for any random weeknight, even when you're sandwiching dinner between work and nighttime obligations.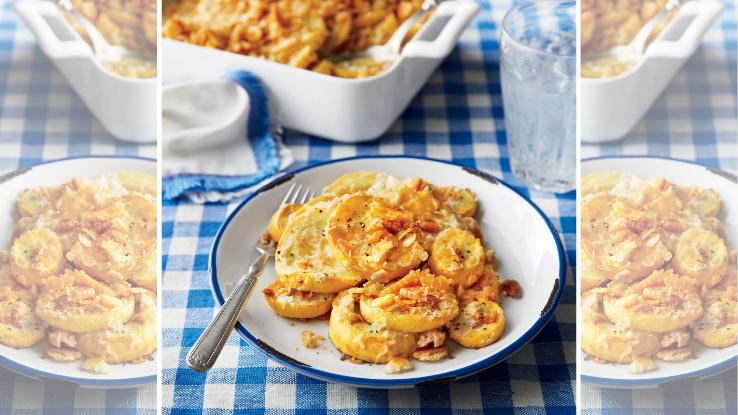 To make this classic dish, start by sauteing sliced yellow squash, onion and salt in butter until the liquid evaporates. In a separate bowl, blend eggs, sour cream, mayonnaise, Cheddar cheese, Swiss cheese, thyme, pepper and salt, and then fold the mixture and the squash together before transferring it all to a greased stoneware or another type of baking dish. Melt unsalted butter and mix it with crushed butter-flavored crackers like Ritz and an ounce of Parmesan cheese and sprinkle it on top of the casserole.
Bake for 20 minutes at 350 degrees and enjoy! Want to watch a video of the entire process? Visit the recipe's website.
Yellow Squash Soup
If you love warm, creamy, comforting soups, then you'll be happy to hear that you can make a version with yellow squash that's so rich and delicious, you won't even remember that it's also healthy. This recipe is perfect for chilly winter weather, but it's also light enough to satisfy your soup cravings in the heat of summer. Even better, making this soup is simple and uncomplicated.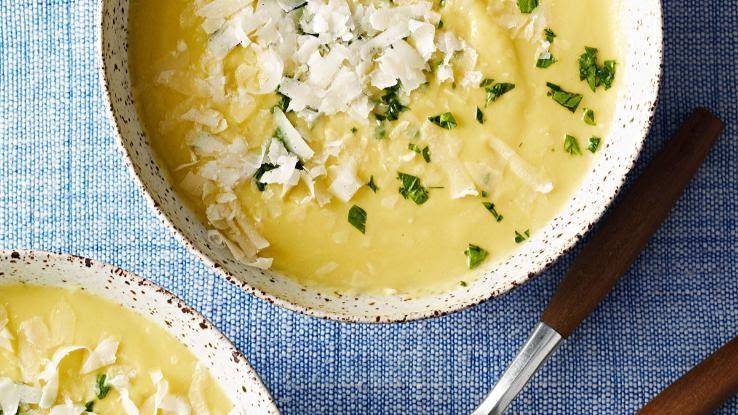 Simply combine peeled, thin-cut yellow squash, chicken stock, onion, butter and lemon zest in a pan and heat on medium for about 15 minutes until the vegetables are tender. A mandoline or food processor can help you achieve thin slices for easier cooking. Puree the cooked ingredients in batches in a blender and add any seasonings you may enjoy. Top the smooth, finished soup with Parmesan and parsley and serve in porcelain soup bowls with handles, which are also ideal when you want to bake individual soups like French onion.
For exact measurements for this quick and easy soup recipe, check out the primary recipe website.
Fried Yellow Squash
If you're familiar with Southern comfort food, then you've probably eaten or at least heard about fried yellow squash. Frying is a simple approach that makes just about anything taste delicious, including vegetables, and it doesn't have to be a bad thing if you choose heart-healthy oils for your frying. This particular dish also doesn't take up a lot of time if you're looking for something to make quickly for dinner when you get home.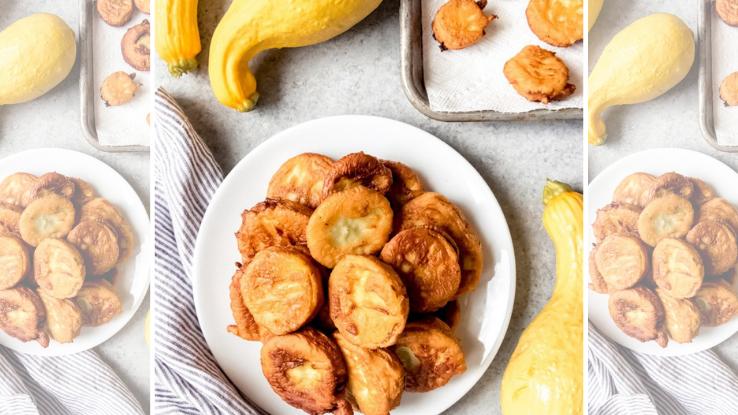 With your pan ready to go, prepare your squash by washing it and slicing it. Dip each piece one at a time into a batter you make with egg, flour and milk and transfer the battered pieces into a skillet of hot oil. Some people season with salt, pepper and other preferred spices as they fry. Others add the seasoning to the batter or wait until the squash are done cooking. Remove the pieces from the pan once both sides turn golden brown.
Don't forget that fried foods are hot. Let the pieces cool slightly on a plate lined with a paper towel before attempting to eat them. For a detailed ingredient list and other helpful tips, check out the full recipe here.
Yellow Squash with Parmesan Cheese
If frying adds too much fat and calories for you, but you still like a good crunch on your squash, baking offers a great alternative — especially if you add some cheese to the mix. You have a lot of choices when it comes to cheese and yellow squash, but this recipe calls for Parmesan. However, be aware that not all Parmesans are created equal. Freshly grated options from the dairy section are much more flavorful than the grated aged crumbles in plastic containers in the spaghetti aisle. The fresh version has a very different flavor profile than its aged counterparts.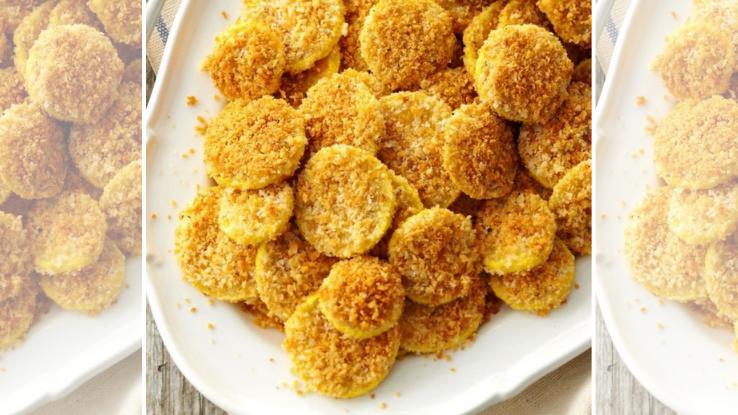 Start by thinly slicing yellow squash and tossing the slices with olive oil, salt, black pepper and Cayenne pepper. In a separate bowl, combine panko breadcrumbs with fresh Parmesan cheese. Dip each seasoned squash slice in the bread crumb and cheese mixture and place them in a rectangular baking pan or on a cookie sheet. Bake for 20 to 25 minutes at 450 degrees, rotating the pan halfway through cooking to ensure the slices brown evenly. For full ingredient measurements, get all the details on the Taste of Home website.
Whether you love to bake, fry or make creamy casseroles, you'll be all set to cook and serve yellow squash all year long with these delicious recipes. Bon appetit!